How To Improve Employee Value Proposition
What is an Employee Value Proposition?
An Employee Value Proposition is how a business markets itself to prospective talent and how they retain their employees through rewards and benefits in a competitive job market. An EVP is about attracting the skills and employees they desire and keeping them engaged.
Without it, businesses may struggle to recruit quality talent or keep existing employees so improving your Employee Value Proposition is essential.
Start with the basics, find out how your current employees feel about your company with a
FREE Engagement survey
to know where your company stands and where to focus to make an impact right away.
Top 3 Signs Your Employee Value Proposition Needs Work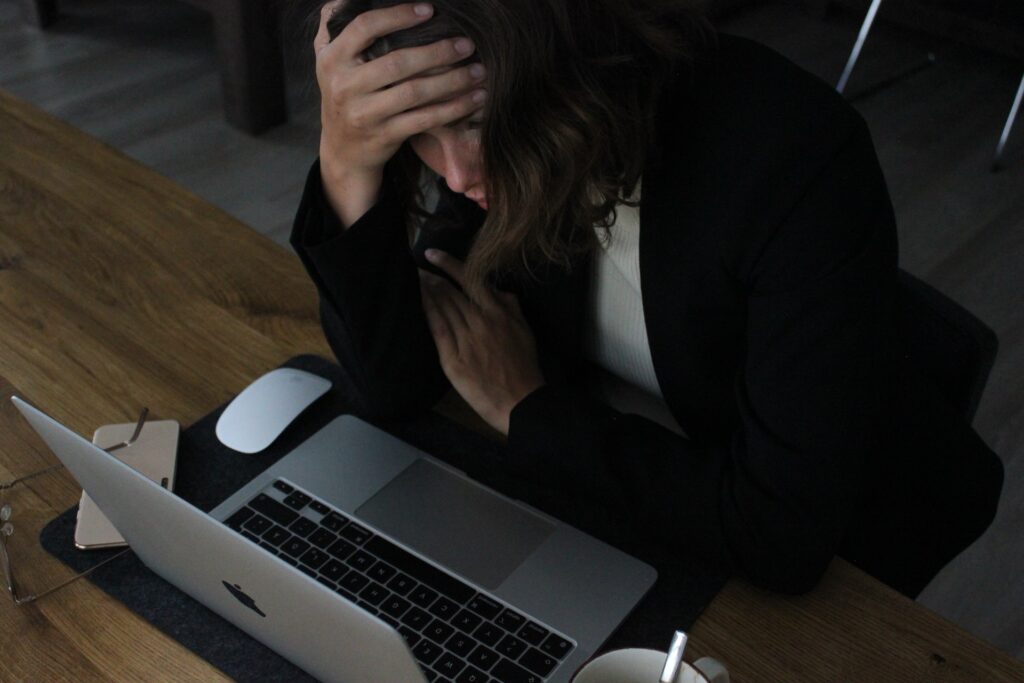 Having an effective Employee Value Proposition will help to improve motivation, engagement and loyalty in your employees. An effective EVP ensures employees and businesses are mutually benefitted. Yet many businesses don't have a long-term EVP plan in place. Here are some of the signs your Employee Value Proposition may need some work:
High Employee Turnover
If your business has a high employee turnover, you may want to look into your EVP. Research from Gartner shows that having a strong EVP can reduce turnover by two thirds (69%). Having a poor EVP could mean that your business is attracting the wrong talent or your business isn't living up to the promises that you made, leading employees to feel unsatisfied and misled.
Poor Engagement
An inadequate EVP can lead to poor engagement. Engaged employees are essential for retaining talent, and increasing productivity. Poorly engaged employees make less of a contribution to team goals and aren't as likely to recommend their employer to others. If some members of the team aren't engaged in their work, this will trickle down and decrease morale for those who are and lower the entire team's engagement.
Low Productivity
If your EVP does not reflect the current and future needs of your employees, then you may find that employee productivity isn't where you'd expect or want it to be. Your business needs to understand your employees' roles to ensure productivity and align your EVP to fit. For example, toggling between applications and having an increased number of virtual meetings leaves employees with very little time to do actual work. Having a poor EPV can also lead to employees undervaluing or lacking the motivation to work towards the business' goals and objectives.
5 Ways To Improve Your EVP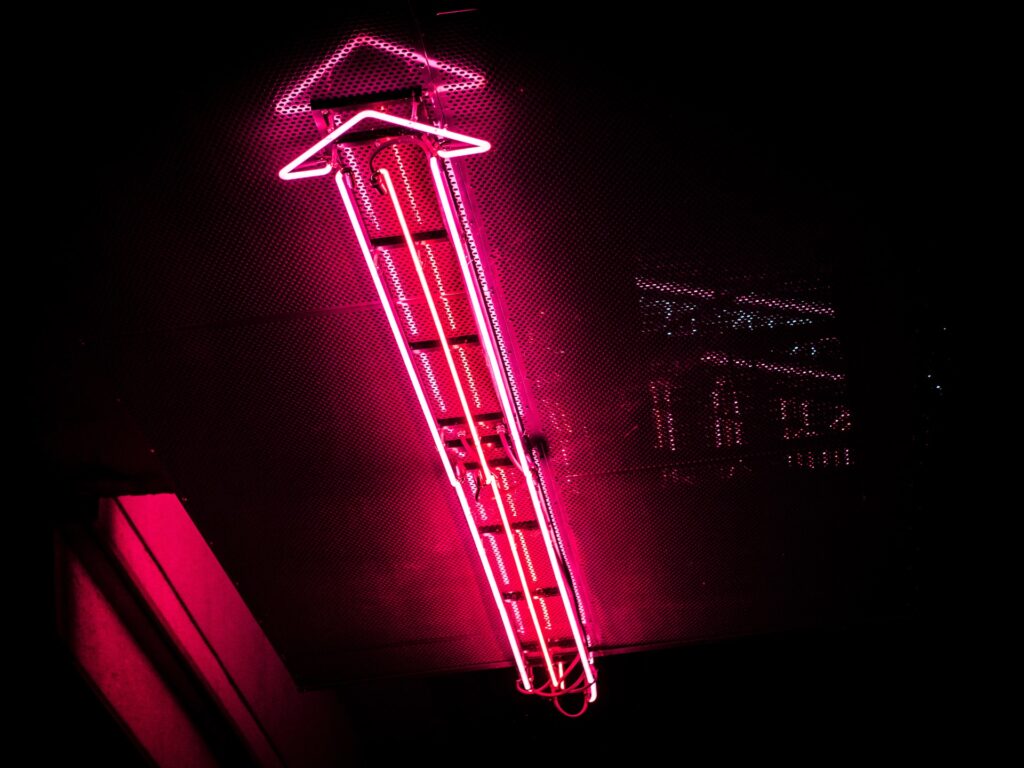 The best way to improve your Employee Value Proposition is to focus on what your employees want. It's important to check in with your employees regularly. Ask your employees for their praises and complaints to be able to make relevant changes.
Build meaningful connections

Building meaningful connections is a lot easier when teams work solely in the office, so it's vital to create opportunities for hybrid/remote teams to connect and build these connections/relationships. Leaders also need to be involving themselves and listen to their employees. Having meaningful connections throughout different departments can build a community with shared values and reduces barriers between colleagues and teams.
Promote personal growth
Support an employee's drive and ambition with personal growth opportunities. Doing this creates loyalty and allows employees to move up within the business. If your business boasts about providing tools and opportunities for personal growth, you need to live up to these promises.
Support wellbeing
People want to work for businesses that care about them. Providing wellness support and resources can lead to higher engagement, performance and productivity, as well as reduced sickness. Businesses should be inspiring employees to have personal goals to ensure work-life balance and create an overall happier workforce.
Unite with shared purpose and goals
Having a shared purpose that employees value inspires them in their work. Having shared goals makes employees feel part of something bigger and motivates them to achieve more. Businesses need to recognise collective efforts and ensure that their values align with their employees.
Flexibility
Allowing employees to have flexibility in their work makes employees feel more valued and creates a sense of trust. Flexibility in the workplace also improves work-life balance and reduces stress, improving the overall morale of your employees. Businesses should identify flexible activities for roles, teams, and departments and establish boundaries to get the balance right. Look for a unified platform to make flexible working smoother by connecting apps, employees and external partners for a seamless digital experience.
Maslow's Hierarchy of Needs
Maslow's Hierarchy of needs is an idea in psychology that includes 5 stages of needs that motivate human behaviour. Using this hierarchy we can determine how people are motivated and which needs are required before being able to move on to more advanced needs since people are motivated to fulfil basic needs before moving on to more advanced needs.

Applying Maslow's Hierarchy of needs to the workplace and keeping it in mind when creating your Employee Value Proposition will help to keep employees satisfied and motivated at work. You can download our PDF breakdown of Maslow's Hierarchy of needs here.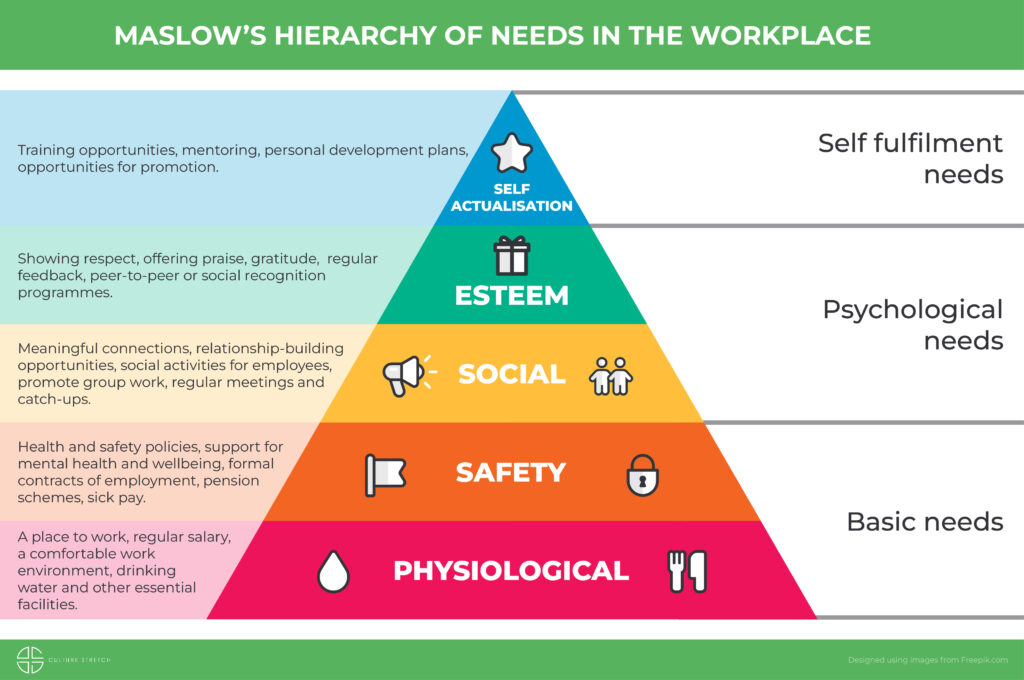 Physiological needs
These are usually basic needs that are vital to survival. In the workplace, this could mean having a place to work, earning a regular salary, access to a comfortable work environment, somewhere to get drinking water as well as other essential facilities. 
Safety needs
These are other basic needs that are vital to survival. In the workplace, employees must feel that their physical safety is valued and prioritised. Health and safety need to be considered in the work environment and relevant resources and information should be available to all employees. Employees should also have formal contracts of employment, benefits such as a pension scheme and sick pay. Mental health and wellbeing should also be considered and supported in the workplace. 
Social needs
In Maslow's hierarchy, love, acceptance and belonging make up social needs. When employees feel they belong, they are more likely to feel committed to their job and are more engaged in their workplaces. Businesses should be creating relationship-building opportunities and social activities for employees. They should also be promoting group work and having regular meetings and catch-ups. Making use of communication tools will enable employees that work remotely or hybrid to socialise and collaborate no matter where they are. 
Esteem needs
These needs are about having respect and admiration. Employees need to feel they are contributing to a higher goal and that they are being recognised to succeed in their work. Showing respect and offering praise and gratitude will build an employee's confidence and let them know they are growing, advancing and achieving results. Giving regular feedback provides employees with the tools they need to improve and grow. Peer-to-peer or social recognition programmes will celebrate employee achievements and make employees feel respected.
Self-actualisation
Self-actualisation is the realisation of your own potential. In the workplace, providing employees with training opportunities, mentoring, personal development plans, and the opportunities for promotion enables employees to be the best they can be and fulfil their self-actualisation needs.
If you have any questions or would like to know more, get in touch here!